Team Public law
Alessandro Colonna, Susann Evertz, Hans G. Wagner, Thomas Frister, Rudolf Häusler, Dr. Peter Eichhorn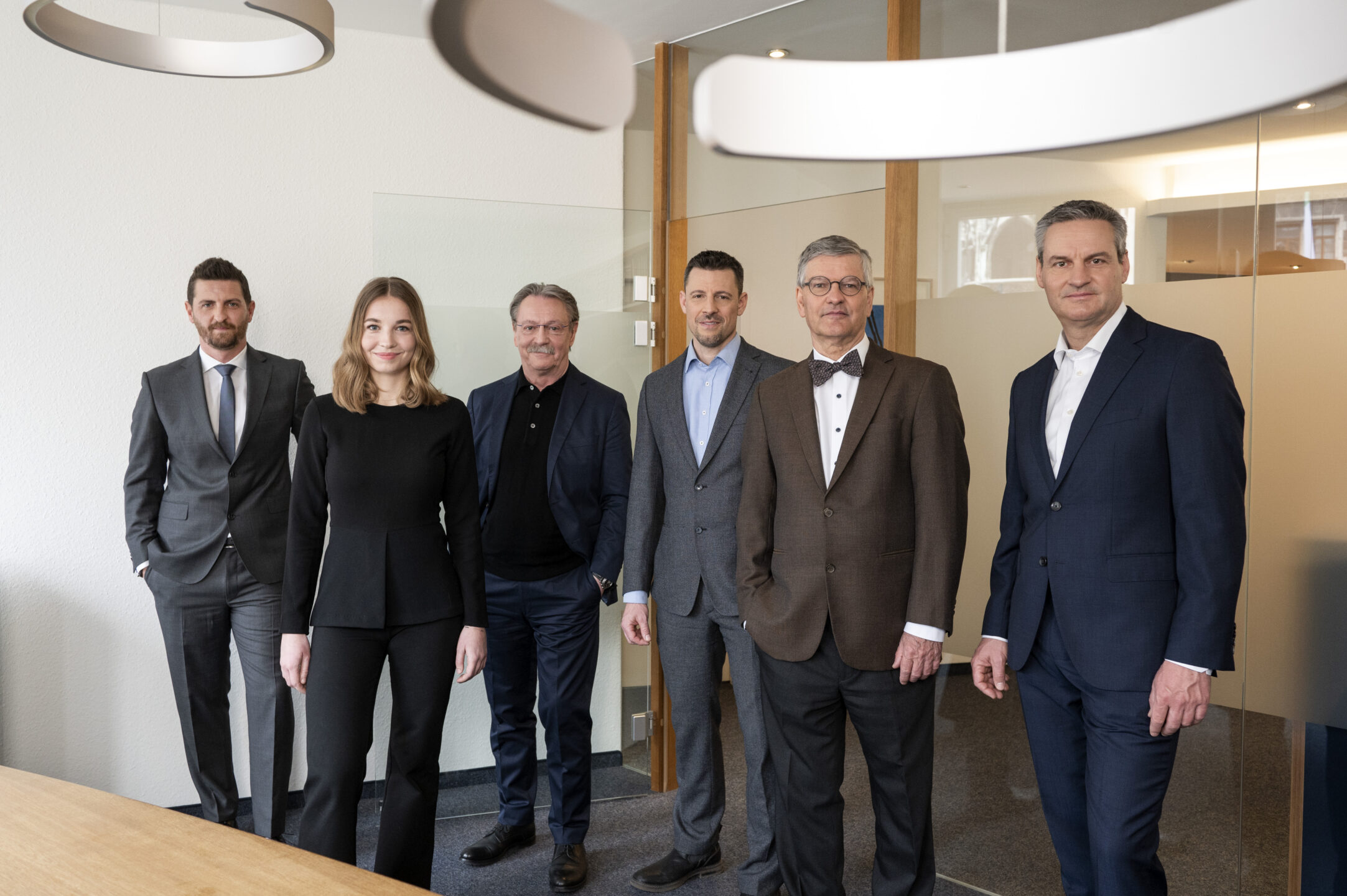 Zoning law
Glock Liphart Probst & Partner's PUBLIC LAW team has been advising its clients on all matters of zoning law, the core area of administrative real estate law, since the 1970s.
We provide comprehensive legal and procedural support in the preparation of development plans; this includes our participation as expert advisors in architectural competitions, advice on the planning of the new required infrastructure and on land reallocation procedures in accordance with the Building Code (BauGB).
We can help you with
Conversion of land formerly used for other purposes, e.g. disused military bases, former railway areas or brownfield sites,
Urban land use planning for greenfield development,
urban infill development,
project-related development plans.
The coordination with the planning municipality (administration and political bodies) and the specialist planners is a core part of our legal work.
Several years of involvement with each individual development plan procedure, cooperation with planning offices and experts, clarification of the private and public interests affected, planning of new infrastructure (roads, pathways, schools, daycare centres, green spaces, public transport, parking, etc.) and participation in the process of weighing the various goals and priorities give us the necessary depth of knowledge and enable us to develop proposals for sound solutions – not least because we can draw on similar cases from the other team members for comparison.
We deal with development plans for individual projects (e.g. Allianz Arena), for large residential area developments (Paulaner site Munich) as well as for industrial projects (including approvals according to immission control law). This often involves project-related development plans for the realisation of projects that have already been set out in specific detail during the planning stage.
We mainly advise investors, property owners and project developers, but also cities and municipalities.
The planning areas are located in Munich and the surrounding districts as well as throughout Bavaria and beyond (e.g. Stuttgart, Hamburg, Duisburg, Leipzig).
Urban development contracts
Development plans regularly include urban development contracts with supplementary agreements between the municipality and property owners. For example, the Munich SoBoN principles have shaped the work of our PUBLIC LAW team from the beginning of their introduction 30 years ago.
These contracts regulate matters such as:
Social purpose dedication of housing,
Implementation and securing of obligations to develop land,
Securing mobility concepts,
Land improvement (infrastructure)
Construction of daycare centres,
Co-funding of primary school places,
Cession of land areas for public purposes,
Encumbrance with easements of all kinds for specific purposes
The PUBLIC LAW team has many years of experience in advising on and negotiating urban development contracts.
Building regulations
The process of obtaining building permits and provisional planning permissions begins with the preparation of the application. The PUBLIC LAW team is often involved at this early stage. In cooperation with planning offices, we explore approval prospects, examine design ideas and alternatives, and propose planning modifications.
During building permit procedures, we deal with historical building preservation law, the integration of the project with its surroundings, we examine additional legal potential for construction on plots, possible exemptions from the provisions of an applicable development plan, tree protection in connection with possible replacement plantings for removed trees, parking space issues and misuse permits.
The negotiation of neighbour agreements securing a project is also part of the work of the PUBLIC LAW team.
In short: We take care of the entire legal side of a project, from the initial concept to the laying of the foundation stone and the completion ready for occupancy, ensuring that the required permits are available at every stage.
The PUBLIC LAW team not only handles large-scale projects, but basically any construction project. The daily exchange with specialist planners is just as much a part of our work as the intensive coordination with officials.
Law of zoning procedures
The PUBLIC LAW team routinely deals with procuring and defending zoning decisions in court. In addition to zoning decisions under road and railway law, the focus is on zoning for wells or power plants (under water law) and for trams (under transport law).
Environmental law
Without in-depth knowledge of environmental law, it is no longer possible to provide advice on public planning and building law. Dealing with special features of nature conservation, water and/or immission control law is frequently an important part of a projects.
For our clients (and with them), we discuss the noise protection or groundwater compliance of planned projects as well as possible measures for the conservation of species protected under nature conservation law – drawing on the help of external technical experts as necessary. Our aim is to find solutions that protect these important public interests while making it possible to realise the project.
In addition to questions of environmental law relating to construction projects, the PUBLIC LAW team also deals with special environmental issues such as the construction of wells for drinking water production, the raw material extraction, contaminated site cleanup, nature and landscape conservation, groundwater protection.
Immission control law
In the field of immission control law, we have been advising and representing companies in a range of industries for decades. The objective is to obtain new permits or modification permits for industrial plants or other polluting facilities under the Federal Immission Control Act (BImschG). We provide support already during the planning phase, offering advice on issues that touch upon both law and technology aspects in order to improve approval prospects. The focus is always also on ensuring that facilities are sustainable from the perspectives of their neighbours, the environment and the employees working there.
Monument preservation law
Monument preservation law plays an increasingly important role not only in the planning and realisation of construction projects that directly affect listed buildings, but also when constructing new buildings in historic city centres and even in new greenfield projects.
Unexpected archaeological finds from antiquity or the Middle Ages can significantly delay both development plan procedures and the actual construction projects.
The conversion of a listed building or the implementation of a construction project within a monument ensemble or in proximity to a listed building also requires a timely and considered assessment of the legally relevant qualities of the protected structures and an analysis of the planning options on how to address them. Early consultations with the government bodies responsible for the preservation of historical buildings at the state and municipal level can considerably accelerate building projects, create legal certainty for the building owner and avoid planning risks.
We advise our clients beforehand on these matters in cooperation with historical and archaeological experts in order to identify any potential issues in good time and develop concepts for dealing with any challenges in coordination with the relevant authorities.
Administrative and court proceedings
Conflict resolution without litigation saves time, reduces risks and often helps to bring lasting peace to a contentious situation. Nevertheless, legal action is unavoidable in many cases, especially when short deadlines for bringing such action apply. The PUBLIC LAW team has extensive experience in litigation before the German administrative courts, but also before the ordinary courts, insofar as these have jurisdiction over public law disputes, such as proceedings relating to expropriation or compensation.
We represent our clients both in their role as claimant and as defendant or joined party. Effective representation in court begins with the drafting of goal-oriented motions as the foundation for the clear and well-structured presentation and substantiation of one's own (often quite complex) legal position, to the negotiation of options for a settlement and the review of the court's decision, including advice on possible legal remedies.